At Zuva, we think contract data is too important to be bottled up in one system, or be forced into one particular set of workflows. Almost any business team can benefit from being able to access and review contract data.
We've been building contracts AI since 2011. Our tech has been used by the world's most demanding contract reviewers and for many of the world's biggest companies. At Zuva, our focus has not just been to free this technology from any one system, but also make it dead simple for business people to use AI to extract and make use of contract data.
That's why today, we are very excited to announce a new product offering: a FREE tier of our contracts AI, which you can use at this link: https://zuva.ai
How it works
With our new free offering, anyone and everyone has the ability to experience the power of our contracts AI tech. Here's how it works:
First, determine what you'd like to find in your documents. Zuva automatically knows how to find >1,300 data points (the free version includes some but not all), so it's important to figure out your focus. This could be terms relevant for leases, procurement, revenue operations, finance, or data privacy . You might care about credit agreement or employment agreement terms. Select from the options provided.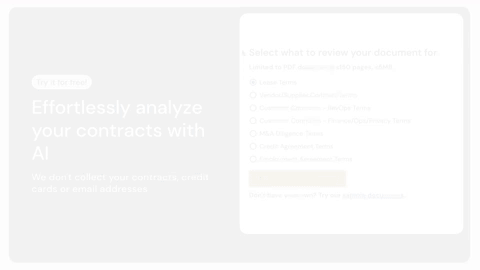 Then, upload your documents (or try one of our sample docs), and our AI will perform an extraction across a predetermined set of AI fields. When completed, you can view the extractions within the tool and also see them highlighted in the adjacent the document viewer.

You're welcome to use this product as much as you'd like, but note that it has some limitations, including that you can only review one document at a time, documents have to be PDFs 150 pages or less, and you can't copy and paste or otherwise export results. Still, for the price, we think it's pretty good.
In using this product it's important to know that Zuva will not collect any uploaded documents. You also don't need to provide your email or any credit card information.
We think this is a pretty unique offering
Contracts AI is typically pretty expensive. We've had people pay us literally millions of dollars (more than the cost of a house!) to use a different version of the same technology. This is completely free.
People can use this tool as much as they'd like to find contract information without having to learn a new UI, register or provide an email address (or any other personal information).
Free usage is fairly popular in other areas of tech—like ecommerce, sales & marketing or developer tools—but we don't think we've ever seen anything like this in the contracts or legal tech space.
Try it out!
We welcome you to try our new, free contracts AI product, and please let us know what you think!